The concept behind our luxury properties in Milan
When it comes to designing the interiors of a luxury apartment, there are many options available. From the materials used to the details that define its style and atmosphere, creating a luxury living space means finding the perfect combination of elements.

What are the attributes that distinguish luxury properties from simply expensive apartments? We start by assuming that there is no luxury without comfort. But we know, for many people, luxury is often associated with ostentation and extravagance. For us at Nativo, the concept of luxury has much to do with elegance and uniqueness. Uniqueness deploys in terms of style, solutions adopted, and experience.

Nativo's core pillars: stunning architecture, coherent property design, attention to details
1) The importance of space and the intrinsic qualities of a luxury property
In order to be considered prestigious, a property should have some intrinsic qualities, that certain je ne sais quoi. Among these core values, we look forward large square footage – our Collection's apartments start at 100 square meters, as well as flawless architecture with beautifully functional, bright and airy spaces.
2) A luxury property embodies the essence of consistency, exquisite finishes, and a strong sense of identity
We believe a high-end property should be consistent in its facets, with carefully selected materials and pieces that blend harmoniously to create a unique and graceful space. It does not mean not being able to mix styles or pieces from different eras. Rather, it requires a skilled balance that makes the space aesthetically pleasing and inviting. In addition to a well-thought-out design, top-notch materials and finishes are crucial in providing a tactile and visual feel at the center of the luxury experience.
Furthermore, we believe that an upscale property should be contextually relevant, reflecting the identity and personality of the location where it is situated.
03) Details matter
Our ultimate goal is to create exceptional homes that will entice occupants to linger and can be rented out in pristine condition. It is the attention to detail that sets Nativo apart when designing an apartment for our clients. Our unwavering commitment to quality means that we never compromise on the materials or craftsmanship, resulting in homes that are not only beautiful but also durable and long-lasting. For this to be possible, it is important that Nativo properties be consistent and well conceived from the very beginning.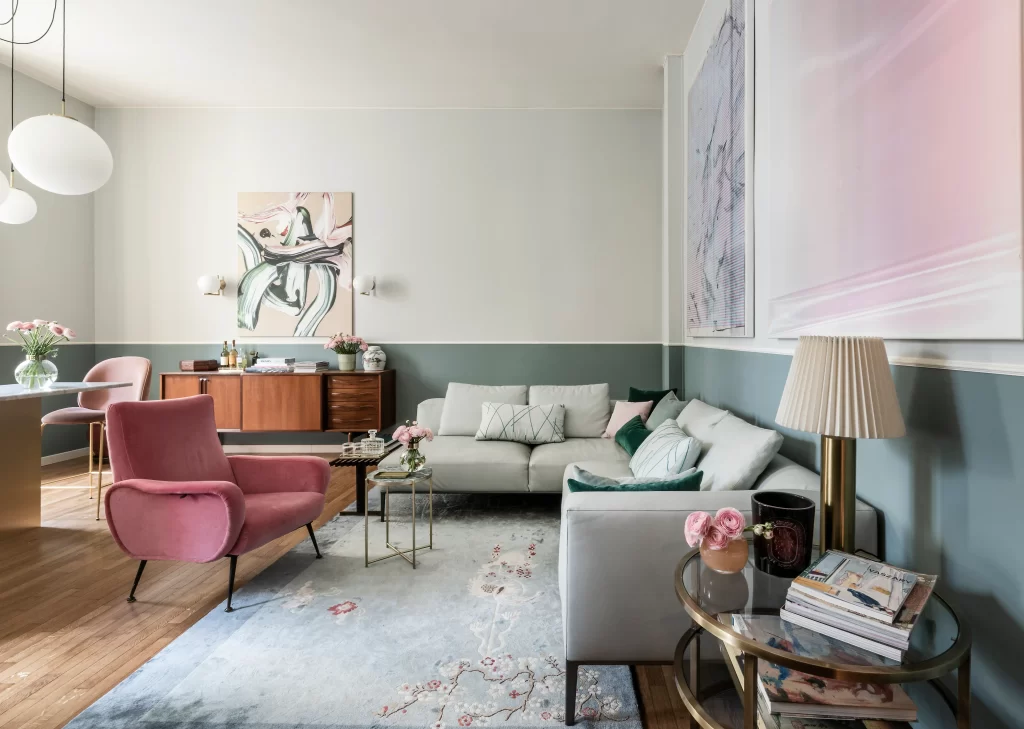 Luxury homes interior design: the ABCs of the Native method
The art of interior design for luxury homes
When it comes to furnishing a high-end property, the input of an interior design specialist is essential. They play a critical role in every aspect, from analyzing the natural lighting sources and color scheme for each room to selecting the finest materials and showcasing unique pieces of art. In the creation of a luxurious residence, no detail can be overlooked. Every item matters, from the grandeur of the chandeliers to the comfort of the rugs, the aesthetics of the pillows, the lushness of the plants, the elegance of the bathroom fixtures, and the quality of the cookware. It is the collective impact of these small and large design elements that imbue each room with its unique character and ambiance.

In every way, everything revolves around the initial choice regarding the style and resulting identity of the property.
Designing with fine materials
Selecting fine materials is a critical aspect of any home renovation project, to obtain functional longevity and aesthetic appeal. One example? Designs made with quality fabrics such as velvet or leather, combined with solid wood frames. High-end finishes, where the protagonists are wood, stone, and metals – can make rooms such as the bathroom, the hall, and the kitchen unique.
Designing and building with fine materials demands working with reputable local suppliers. The best materials are renewed for their strength, durability, and aesthetic value. Here are some examples of fine materials and finishes used in building luxury homes:
Marble: A natural stone that offers a smooth, shiny surface with a variety of colors and textures. One example? The Collector features bathrooms made entirely of marble, creating a luxurious and sophisticated atmosphere.
Granite: A strong and durable material, often used as flooring or wall tiles for bathrooms and kitchens.
Natural Stones: Other natural stones such as limestone or quartz are used as exterior and interior cladding, providing a durable and attractive finish.
Hardwood: Solid hardwood is used for flooring, doors, and cabinets, offering a warm, natural finish. The Flemish showcases the beauty of hardwood in its design.
Glass: Glass creates windows, sliding doors, and partitions, letting natural light enter and offering panoramic views. The Allurin is an excellent example of using glass in design.
Steel: Steel is used for supporting structures and railings, offering a modern, sturdy finish.
Illuminating Unique Spaces: The Vital Role of Light in Design
In an elegant home, light is not just an element that illuminates the space but a loyal companion that can transform it. It has the power to define the ambiance, create focal points, and accentuate design details. Thus, designing lighting in a luxury setting requires a thoughtful consideration of several factors.

To create a comfortable and welcoming atmosphere, designers can choose from a variety of lighting solutions, including:
Recessed lighting: Installed within the ceiling, furniture or walls, recessed lighting is ideal for creating a soft, uniform light that fills the space.
Accent lighting: Focusing on decorative elements such as paintings, statues, design objects, or bookcases, this lighting solution creates an authoritative yet warm and inviting atmosphere.
Suspended lighting: Ideal for the living area or kitchen, suspended lighting provides direct and even light, enhancing the functionality of the space.
Spotlighting: This lighting solution is perfect for creating a dramatic and intense atmosphere, with spotlights aimed at specific decorative elements or areas of the room.
LED lighting: LED lighting offers a broad range of color and intensity options that can provide a color substrate to each room, adding an extra layer of ambiance to the overall design.
Timeless solutions
Nativo offers innovative design solutions that go beyond mere living spaces. Each apartment is a masterpiece that blends elements of art and design, allowing residents to express their unique style within a timeless framework. Staying in our modern luxury homes is an immersive experience of comfort that engages all senses. The gaze, the touch, and the harmony of the aesthetic processes.
At Nativo, quality is our top priority, and it conveys in every aspect of our design. Whether it's the marble in the bathroom or the vintage lacquered cabinetry, each element has inherent value, both as an individual piece and as a part of the whole.
Nativo's Signature Living
Staying in a Nativo apartment means spending quality time. The idea behind Signature Living, a lavish and exclusive accommodation choice, is to provide guests with a unique and unforgettable experience. This is achieved through a meticulous focus on every detail, elegant and refined design, high-end concierge services, and location in the most desirable areas of the cities.
The signature is that of the designer's touch, the pieces of art, and the design objects – all located within wide and elegant settings. When the spaces are large, there are no limitations and no sense of claustrophobia related to traditional hotel rooms. Large and spacious apartments with separate living, kitchen, and dining areas. This gives guests more space to relax and enjoy every precious intimate moment in the home environment.
Prime location: Our boutique apartments are often located in some of the most desirable neighborhoods, with easy access to stores, restaurants, and entertainment venues. Whether you are in Milan for business or pleasure, you can enjoy all that the city has to offer from the comfort of your upscale apartment.

Our homes are not only elegant and refined, they have a signature, they have a soul. And if that still is not enough, we can offer timely and extensive services, 5-star hotel-level services, to make each stay even more comfortable.